SUSTAINABILITY
"To us, sustainability isn't just a good marketing angle or a sound business decision. It's also a critical adjustment of our mindset as responsible members of the greater global community. Our team has been charged with finding ways that we as a company can support environmental initiatives at our offices, support the efforts of our supply chain in promoting their own sustainability programs, and lead the way for change within our industry as a whole. There is no one magical formula that can reverse the situation; but all of us can contribute creative ideas that continue to raise the bar."

The eco-enable project is our response to this challenge. As a company, we've already identified several things that we're doing now to protect our environment.
Laminart is a proud member of the U.S. Green Building Council.

In 2006, we completed a conversion of our entire fleet of corporate vehicles to hybrid cars.

Laminart high-pressure laminate is GREENGUARD Indoor Air Quality Certified® for low-emitting products.

We recycle discontinued samples by donating them to zero landfill and local design schools.
ABOUT OUR PRODUCTS
GREENGUARD INDOOR AIR QUALITY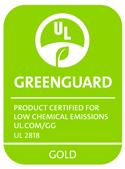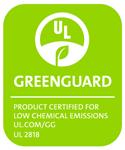 LAMINART IS "GREENGUARD CERTIFIED"

The GREENGUARD Indoor Air Quality Certified® mark shows that a product has been tested for indoor pollutant emissions using stringent environmental chamber methods and found to meet the GREENGUARD Standard for Low Emitting Products.

Our GREENGUARD Certified products produce low amounts of pollutants in indoor environments. Products that are certified as GREENGUARD Children & Schools™ meet the most stringent product emissions criteria in the market.

THE IMPORTANCE OF GREENGUARD CERTIFICATION

Almost all materials and products used indoors emit chemicals and particles that may negatively affect human health. And because Americans spend more than 50 percent of their time indoors, where the concentrations of pollutants may be significantly higher than outdoors, having GREENGUARD certified surfaces is that much more important.

Some health risks associated with poor indoor air quality include asthma, cancer, reproductive and developmental problems. It has been proven that children in the U.S. miss over 6 million school days per year due to asthma alone, and the U.S. EPA estimates half of the schools in the U.S. have indoor air quality problems.

The use of GREENGUARD Certified products can significantly reduce the levels of pollutants in the indoor air, as these products attack indoor air pollutants at the source.
ECO-FRIENDLY ATTRIBUTES OF HPL

Laminart makes a point of being an environmentally friendly company, from the cars we drive to the materials we use. Our products have numerous eco-friendly attributes, including the following:

Rapidly Renewable Materials
Rapidly renewable resources are materials that are made from plants, which are typically harvested within a 10-year cycle or less. The kraft paper that is used to manufacture Laminart high-pressure decorative laminate is sourced from responsibly managed forests that have been third-party certified by the Sustainable Forestry Initiative (SFI). In order to meet the stringent requirements of this certification, forest products used in the production of paper pulp must be harvested and replaced within a 10-year cycle or less. Kraft paper makes up approximately 75-80% of the paper composition of high-pressure decorative laminate depending upon the grade of material specified.

GREENGUARD Friendly
Lamin-Art high-pressure decorative laminates are GREENGUARD and GREENGUARD Children & Schools Certified®

No Urea-formaldehyde
Laminart brand high-pressure decorative laminate contains no added urea-formaldehyde.

Laminart acts as a Responsible Member of the Global Community
Lamin-Art is concerned about our environmental impact and that of the production and distribution of our high-pressure decorative laminates (HPL). The Lamin-Art team continuously strives to conserve energy and resources, reduce pollution and source raw materials that are environmentally friendly. We've even instituted a corporate Green Team designated to discuss, implement, and champion additional ways to improve our operating efficiencies and promote sustainability as a company.

Recycled Materials Present in HPL
Our HPL contains between 11% and 18% post-consumer recycled content, depending on the grade. GP48 (Standard Grade) products contain 11% recycled content while GP28 (Vertical Grade) products contain 18% recycled content.

In addition, our Abacá collection is made with recycled banana fibers (post-industrial recycled content) which make up approximately 1% of the total weight of the sheet (approximately 0.13lbs. per sheet).
FOR YOUR PROJECTS
LEED INFORMATION
The U.S. Green Building Council (USGBC) has developed the LEED® Green Building Rating System™, a voluntary, consensus-based international standard for developing high-performance, sustainable buildings. No product or building material can be classified as "LEED certified." The LEED rating system was designed to classify entire building projects. The attributes of projects used in the built environments can help contribute to holistic LEED strategies. Laminart is a proud member of the USGBC.

The table below indicates the applicable credit areas where our products may contribute towards earning points for projects seeking LEED certification.

MATERIALS AND RESOURCES (MR)

RECYCLED CONTENT
Post-Consumer:
11% for GP48 Standard Grade products
18% for GP28 Vertical Grade products

REGIONAL MATERIALS
The point of final assembly is considered the starting point for determining the 500 miles radius requirement for this credit. In the case where a fabricator manufactures project components off-site using our HPL, the 500 mile requirement refers to the distance between the fabricator's facility and the installation location. In the case where our laminate is applied on-site, the installation location should be within 500 miles of our manufacturing facility in Temple, TX to qualify. Click here for a map

INDOOR ENVIRONMENTAL QUALITY (EQ)
Low-Emitting Materials
Laminart high-pressure decorative laminates are GREENGUARD Indoor Air Quality certified and GREENGUARD Children & Schools certified.

LEED Requirement Information
U.S. Green Building Council website
More about the LEED certification
VENEER-ART L.E.E.D CREDITS

Veneer-Art stands by its customers willing to achieve L.E.E.D. certified projects, offering with its products, adequate, performing and eco-friendly solutions.

Veneer-Art L.E.E.D Contributions
CARB REGULATION 93120.12 INFORMATION
FOR THE PLANET
HOW CAN WE ALL HELP?

How can we collectively make a difference?

Here at Laminart we are trying to be environmentally responsible in everything we do and this is just what this section is about: talking about small or big actions that we are putting in place at our offices, projects that we get involved in in our communities or with our customers, and green changes that can improve our daily lives.

Below are five tips to live green every day, inspired by David Bach's Go Green, Live Rich. These are small adjustments that anyone can maketo better the environment — and save some money in the process.

1. Turn off the faucet
Possibly the easiest way to save water is to turn off the tap while brushing your teeth; turning it on only to rinse. Toilets are a tremendous waste of water as well: older toilets can use up to six gallons (26 litres) of water every time they flush, but newer dual-flush toilets only use 1 to 2 gallons per flush (4-7 litres). Low-flow shower heads can also reduce consumption as well as your water bill.

2. Bring your lunch to work
The average American produces almost five pounds of trash per day and 1/3 of our total garbage is packaging. By bringing a lunch to work in reusable containers you can decrease the 63,000 garbage trucks full of trash that America produces each day and save upwards of $2000 a year.

3. Bring a reusable bag to the grocery store
San Francisco was the first U.S. city to outlaw common plastic grocery bags, opting instead to switch to biodegradable plastic and recyclable paper bags. An even better way to conserve resources at the supermarket is to bring your own re-usable bag made from bamboo or other green materials. These durable materials also ensure that the canned goods don't break through the bottom of the bag.

4. Unplug
The phenomenon known as "phantom load" means that even though your electric appliances are turned off they are using up energy. Unplugging larger appliances before you go to sleep and when you go on vacation can decrease your home's CO2 emissions by 1428 pounds (649 kilograms) per year and save you about one hundred dollars in energy costs.

5. Skip a ride
According to Go Green, Live Rich, if every American cut out driving to work one day per week we would reduce CO2 by well over one ton per person! The next step would be to cut out car trips of two miles or less (5 km), which make up a significant portion of the trips we make. By biking or walking, each American could shed a few pounds and save a couple hundred dollars per year.